Preview
1 - Clan Amir: A Fighting Heritage
by Ernest Bywater
Copyright 2007 by Ernest Bywater as Ernest Edwards
Action/Adventure Story: People with a warrior tradition face many military challenges, and how they rise to the occasion. Events demonstrate both the sheer horror of war, and the great heights people can reach when striving to protect their own. A boy caught in the rebellion leaves the country then returns to join the Royal Guards. As a colonel he must stop an invading army while outnumbered 40 to 1. A young girl who joins the Royal Guards. Follow her early childhood, enlistment, her initial deployment.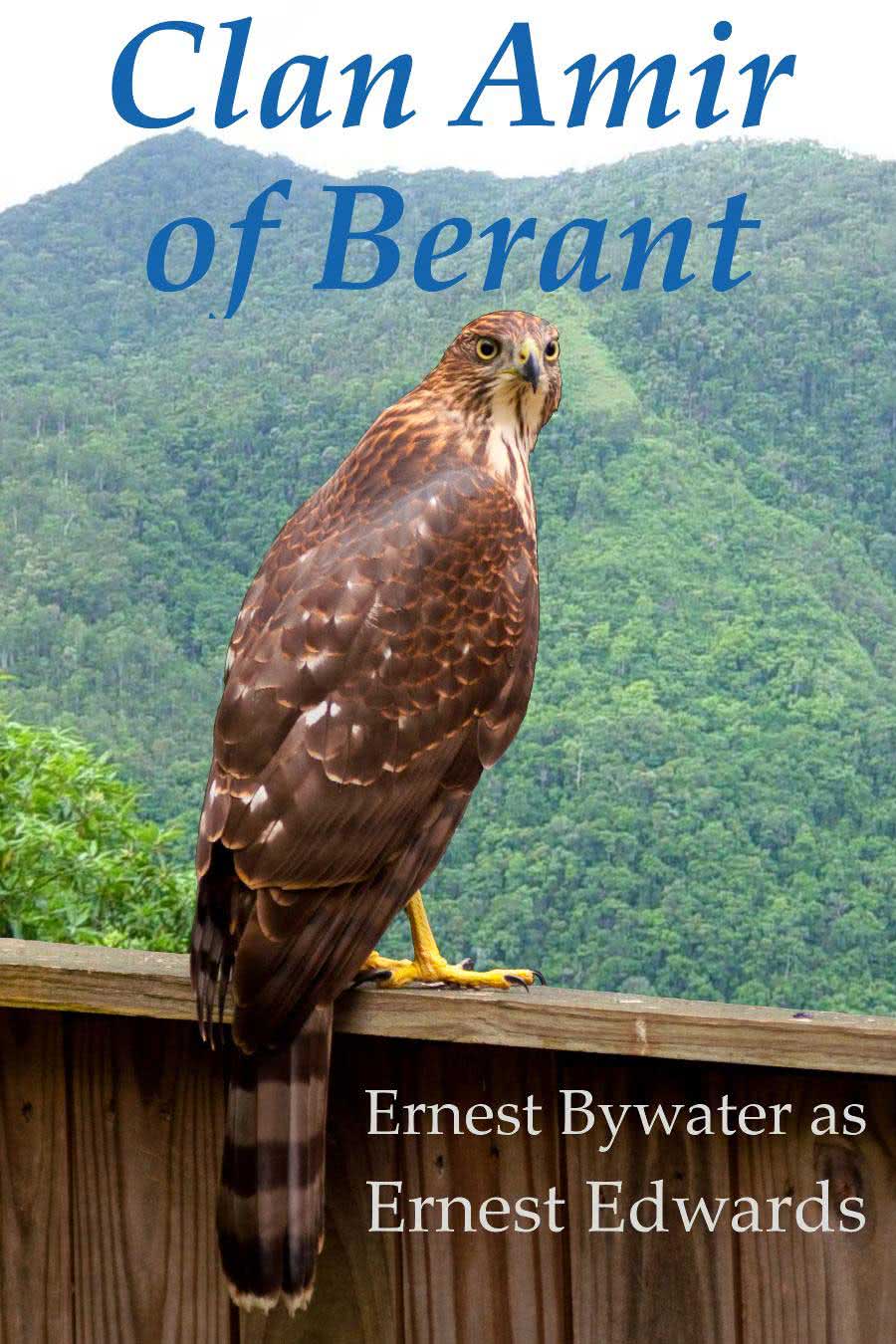 Cover Art
The foreground image of the bird is the copyright of Eric Sloan and used here with his permission. The background is from an image titled DSC00686Cairns.jpg uploaded to Wikipedia by Tim35 released to the public domain on 22 May, 2007. The manipulation, and adding of text is by Ernest Bywater. All rights to the cover image are reserved by the copyright owners.
10 January 2021 version
---
Dedication
Over the years I've seen many definitions of what a hero is. I can't remember if this is a direct quote or paraphrasing of what another has said, but I believe a hero is:
Someone who does what they see as their duty or the right thing to do in exceptional circumstances regardless of the dangers or risks to themselves.
All of the stories in the series in this are dedicated to the many heroes who are the brave men, women, and children who've fought for their people or their country against human or animal dangers or in natural disasters during times of peace or times of war. This is especially dedicated to those who have fallen in the front lines while they strove with all they had to help or protect others. People such as firefighters, medical staff, police officers, soldiers, sailors, airmen, or general civilians helping out in an emergency.
---
from 'The Fallen'
"They shall grow not old, as we that are left grow old:
Age shall not weary them, nor the years condemn.
At the going down of the sun and in the morning
We will remember them."
by Laurence Binyon
---
Table of Contents
Heritage
A People
Prologue
Treason and Rebellion
Australia's Sons
Quick Mover
Political Polka
Money Matters
Beginnings
Ready to Act
The Return
Battle for Berana
Outcomes
Great Tragedy
Afterwards
Fighting Birth
Granite Mannheim
Start of a Legend
The Dareed War
Prologue
U MAMA
Prelude
The Plan
Deadly Dawn
Party Time
The Dance Continues
Next Day
The Outcomes
Afterwards
The Darmore Demon
Prologue
Jessica Tandar
In the Guards
The 5th Claymore
Second Leave
Under Fire
Party Time
Awareness
The Outcomes
On Leave
Afterwards
The titles in use are a Story, a Chapter, a Sub-chapter, and a section.
The source of this story is Finestories